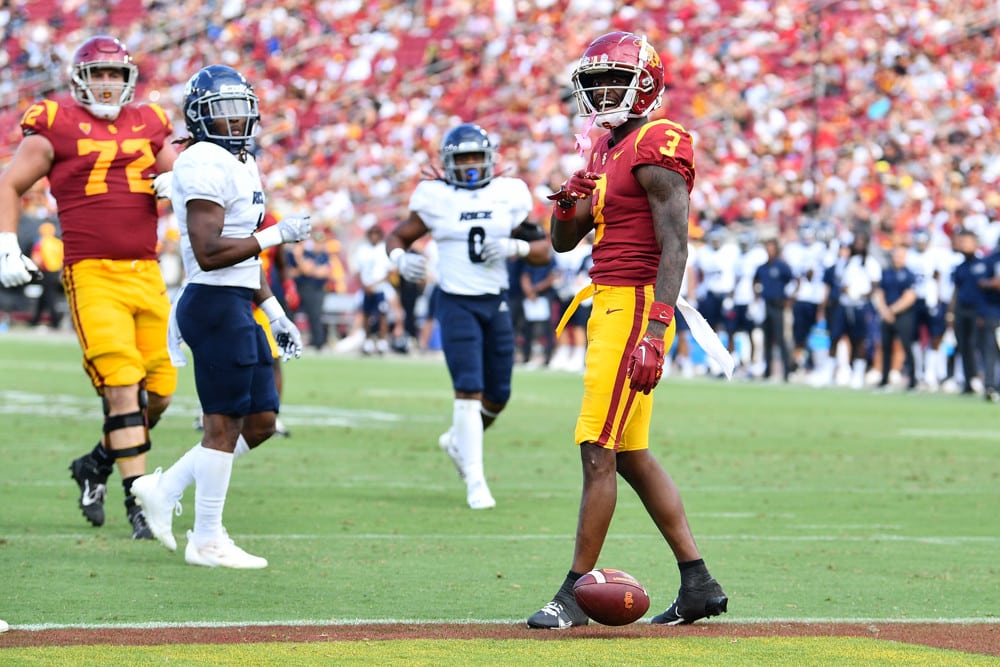 For this 2023 Superflex mock draft, I brought in 3 of the best to help put together an early mock draft for the rookie draft class. I will be doing a few of these throughout the season to see who is moving up or down the draft board. This is the point in the season where you will start making decisions about competing or looking toward the next season. It is always good to do your homework before making that move. Everyone knows how valuable these picks are, and here are the players behind the excitement.

MORE SGPN FANTASY FOOTBALL CONTENT
Week 3 Waiver Wire Targets
Week 3 FAAB Cheat Sheet
Fantasy Football Rankings
Fantasy Football Trade Value Charts
The Draft Order
Dave Heilman – That is me, DynastyDorks on Twitter and I am the Senior Dynasty Analyst for sportsgamblingpodcast.com. You can find my work here as well as a podcast series I host twice a week on SGPNFantasy.
Matt Hicks – All Things @RookieBigBoard go through Matt and his co-host John Laub. Matt's work on the NFL Draft Bible has been featured in Sports Illustrated. Matt is one of the top guys to follow for your pre-draft process. Dynasty or Devy, Matt is a must-follow!
Pat Fitzmaurice – Pat is one of the top dynasty minds out there and one of the nicest guys in the industry. He is the Managing editor for FantasyPros and BettingPros. Host of the Fitz on Fantasy podcast, DynastyPros, and a fantasy football ranker.
Angelo – Angelo provides in-depth insight and camp analysis on NFL prospects via his website angelosanalysis.com. Angelo is a former athlete that works in the sports science field.
2023 Superflex Mock Draft
1.01: QB – C.J. Stroud, Ohio State
Stroud is my top Quarterback in this class, regardless of the landing spot. I expect him to be the 1.01 in your Superflex rookie drafts. This guy is full of confidence, has a big NFL arm, and has quick decision-making ability which will make him a star at the next level. – Dave Heilman
CJ Stroud has thrown 59 TDs & 7 INTs w/ 72% completions as a starter
He has all the size, tools, FBI and ability you want – and executing at an exceptionally high level. His QB play from the pocket is as good as any I've seen since Luck
He is my QB1 & I don't see that changing https://t.co/DFF7L0Q21Q
— Ben Fennell (@BenFennell_NFL) September 25, 2022
1.02: RB – Bijan Robinson, Texas
Two reasons for this pick: (1) Robinson is special, he is a Saquon Barkley/Jonathan Taylor type of prospect. (2) I'm slightly nervous about how small Bryce Young is (6-0, 194). Young has been terrific at Alabama, but I'll take the can't-miss RB from Texas. – Pat Fitzmaurice
1.03: WR – Jaxson Smith-Njigba, Ohio State
Getting sniped on Bijan Robinson is heartbreaking, but the pain quickly subsides with the selection of Ohio State wideout Jaxon Smith-Njigba (JSN). JSN is a fluid runner with excellent athleticism, a large catch radius, and the ability to separate downfield consistently. This deep ball threat has the opportunity to contribute as a significant fantasy football weapon right away as a rookie; think Ja'Marr Chase and Justin Jefferson level upside. – Matt Hicks
1.04: QB – Bryce Young, Alabama
My early QB1 of this 2023 class – his running ability is what is extremely appealing about his overall fantasy upside. Has a bit of Russell Wilson to his game. – Angelo
1.05: WR – Jordan Addison, USC
Addison could end up being the top WR in this class. He won the Biletnikoff award last year and has a good shot at winning it again. We already saw a glimpse of what he can do with Lincoln Riley and Caleb Williams, expect a lot more of that all season. – Dave Heilman
1.06: QB – Will Levis, Kentucky
Can we trust a Quarterback who puts mayonnaise in his coffee? In this case, yes. Levis has an NFL-caliber arm and a physical running style reminiscent of Josh Allen. It's a reasonably safe bet Levis will be a top-10 pick in next year's draft and a Week One starter in 2023.  – Pat Fitzmaurice
1.07: RB – Zach Evans, Ole Miss
Zach Evans is not the consensus RB2 in the 2023 class…yet. The smooth one-cut runner is decisive and bursts through defenses with power and elusiveness. He is set to be a riser through the NFL Draft process. – Pat Fitzmaurice
1.08: WR- Kayshon Boutte, LSU
The most talented receiver in the nation. Would be a consensus top ten selection if it wasn't for his ankle injury suffered in 21. – Angelo
1.09: RB – Jamhyr Gibbs, Alabama
Gibbs hasn't been showcased yet, but his receiving ability will be very intriguing in the draft. As a runner, he is averaging 6 yards a carry. In the air, he has 14 receptions for 144 yards and 2 touchdowns in just 2 games. – Dave Heilman
1.10: QB –Anthony Richardson, Florida
The upside is intoxicating. Richardson is built like an ox (6-4, 236) but runs like a gazelle. He has a cannon for an arm. He has the potential to be a much faster version of Daunte Culpepper. However, Richardson's passing is a work in progress — he entered 2022 with a 56% career completion percentage for the Gators. – Pat Fitzmaurice
1.11: TE – Michael Mayer, Notre Dame
Mayer is a tier above any other Tight End in this class. He is a dynamic two-way Tight End that has the pass-catching ability to be an impact player on fantasy football rosters. Regardless of how the top of your 2023 rookie drafts goes, Mayer should be a staple at the 1st/2nd round turn. – Matt Hicks
Michael Mayer will look good in a Bengals uniform next year
— Blake Jewell (@BlakeJewellNFL) September 24, 2022
1.12: WR – Quentin Johnson, TCU
Despite inconsistent collegiate production, Johnston has the upside to be the best receiver in this class. A true 6'4″ with a 215lb frame – he moves like he's 6'0″ 190lbs and can produce at all three levels. – Angelo
2.01: RB – Sean Tucker, Syracuse
Tucker is a super productive back. He doesn't have the elite traits of some of the other players, but his production is undeniable. His ability to produce both as a runner and receiver will have dynasty managers excited about his outlook – Dave Heilman
2.02: QB – Kyle Van Dyke, Miami
Van Dyke has a big, NFL-caliber arm and gave Miami a huge lift when he took over the Canes' Quarterback job last year as a redshirt freshman. No way anyone should let an arm talent like this get out of the first round of the 2023 draft. – Pat Fitzmaurice
2.03: WR – Jermaine Burton, Alabama
Burton is off to a slow start to the 2023 season, but I have confidence he will catch (pun intended) on soon with the Crimson Tide. Burton releases well-off press coverage, shakes defenders through his routes, and possesses the size and athleticism to dominate at the catch point. I expect him to be a top 50 NFL Draft selection in 2023, which will make 2.04 his fantasy football floor. – Matt Hicks
2.04: RB – Tank Bigsby, Auburn
The best pure runner in this class is not named Robinson. Should have day one success in the NFL – the only question is, how will he fair as a pass catcher? – Angelo
2.05: WR – Cedric Tillman, Tennessee
Tillman has the prototypical X build and he can win outside as well as inside. He is a victim of being on Tennessee and some bad Quarterback play, however, NFL teams will be in love with his size and speed. – Dave Heilman
2.06: RB – Devon Achane, Texas A&M
Achane has freaky speed. At 5-9, 185-pounds, he's never going to be an NFL workhorse, but at minimum, he'll be a high-quality satellite back who plays on passing down. The dream is that he puts on 10-12 more pounds of muscle and becomes a faster version of Brian Westbrook or Tiki Barber. – Pat Fitzmaurice
2.07: WR – Josh Downs, North Carolina
Josh Downs' pre-season injury has caused him to slip in this mock draft. There should be no doubt though that his final ADP will be close to a first-round rookie pick. He is a speedy wideout that displays good hands and has produced early and often for the Tarheels. – Matt Hicks
2.08: TE – Jaheim Bell, South Carolina
Hybrid athlete in the mold of Jonnu Smith. Effective ball carrier that can be used as a move to Tight End or a big slot to get him easy touches. Will need a creative offensive mind – but has a ceiling as high as any Tight End in this class. – Angelo
2.09: WR – Rakim Jarrett, Maryland
Jarrett is an explosive WR that currently is averaging 17.8 yards a catch. Maryland has quietly done a great job at producing WRs and Garrett is the next one. He is another great route runner and his athletic tools make him a big play waiting to happen. – Dave Heilman
Michael Mayer will look good in a Bengals uniform next year
— Blake Jewell (@BlakeJewellNFL) September 24, 2022
2.10: RB – Zach Charbonnet, UCLA
At 6-1, 220 pounds, Charbonnet has prototypical NFL size and runs with power. But he's not a one-trick pony, as he also catches passes, so there's a three-down upside. Charbonnet isn't an explosive athlete, and his college production has never quite lived up to his four-star billing, but there's a lot to like here. – Pat Fitzmaurice
2.11: WR – Parker Washington, Penn St.
Washington is the next Penn State wideout that will shock folks by capturing top 50 NFL draft capital. He is a speedy wideout with good hands that stretches the field while navigating effortlessly through his routes. – Matt Hicks
2.12: RB – Lew Nichols, Central Michigan
Amassed over 2,000 total yards in 21′ and has an NFL-ready frame at 5'11 225lbs. His capabilities as a receiver make him a potential three-down option. – Angelo
Best Available:
Quarterbacks:
Tanner McKee, Stanford
Tanner is a traditional pocket passer at 6'6" 225lbs. McKee doesn't have the rushing ability that will excite fantasy managers. What he does have is a big arm and all of the tools to make throws in the NFL. At this point, he is projected to be a day 2 pick at best in the upcoming draft.
Jaren Hall, BYU
Hall is an older prospect and the analytics folks will not be huge fans. Hall has a big arm and a lot of tools to build off of though. Right now he is a late Day-2 or an early Day-3 pick.
Running Backs:
Blake Corum, Michigan
Blake is a powerful back with a compact frame, coming in at 5'8″ and 200 lbs with a thick lower half. He has great short-area quickness and can make guys miss at the line. Blake also has great quickness and speed to outrun defenders. In 2021 he burst onto the scene and in 2022 he is already putting together a season that has him climbing up boards.
Kenny McIntosh, Georgia
Georgia has been a Running Back factory for a long time, and Kenny McIntosh is one of the next. Kenny has taken over the James Cook role in this offense. His receiving skillset will be sought after in both the NFL and your rookie drafts.
Tavion Thomas, Utah
Thomas is a bigger back standing 6'2" 221 lbs and he uses his size to punish defenders at the second level. This also allows him to sustain a bigger workload. During Utah's last 9 games of 2021, he averaged 20.3 carries a game and 108.2 yards while scoring 19 touchdowns.
Deuce Vaughn, Kansas St.
Deuce Vaughn is built like a satellite back at 5'6" and 176 lbs. We have seen these smaller players play well and they should not be written off. Vaughn is electric with the ball in his hands and will be one of the fastest Running Backs coming out.
Chase Brown, Illinois
Brown has already broken records at Illinois, becoming the first back to have 5 straight 100-yard rushing performances. Brown had 1000 yards last season and already had 600 yards this season averaging 6.4 yards per carry.
Wide Receivers:
Marvin Mims, Oklahoma
There was a mass exodus in Oklahoma with Shane Beamer going to South Carolina and Lincoln Riley going to USC. This had both coaches and players leaving the mid-west in opposite directions. Mims stayed put as the Sooner's most productive receiver the last two seasons. Mims is off to a great start averaging 22.1 yards per catch in 2022. His big play ability will have offensive coaches drooling during the pre-draft process.
Dontay Demus, Jr., Maryland
Demus had a devasting knee injury in 2021 that will have scouts on watch. Demus had successful surgery though and was healthy enough to start the season. Unfortunately, the season has not started off strong. Demus is a really talented player at full strength, we hope to see him finish the season on a positive note.
Dontayvion Wicks, Virginia
Wicks burst on the scene last year with a 1,200-yard season averaging 21.1 yards per catch. Wicks has great speed and he racks up yards after the catch. His ability to track the ball down the field and make big plays will be sought after at the next level.
Xavien "Zay" Flowers, Boston College
Flowers is a really fun player to watch and a ready-made slot for the NFL. Flowers is 5'10" 175lbs and his quickness makes him a nightmare for linebackers or safeties. Flowers is used all over the formation and even out of the backfield as coaches draw plays up for him.
Tight Ends
Arik Gilbert, Georgia
Gilbert has the ideal size at 6'5" 248lbs to be a traditional Tight End. He does really well on intermediate routes and picks up big chunk plays. However, he lacks some of the elite physical traits to make him a Day 1 Tight End. He isn't even the number 1 Tight End on his team with Brock Bowers there. Living in that shadow might hurt some of his production, but Gilbert shouldn't be overlooked.
Sam LaPorta, Iowa
Two things that go together are Iowa and Tight Ends. Iowa had produced a lot of Tight Ends lately and their offense helps them keep producing. LaPorta is the next one and he should be one of the top two or three off the board this May. LaPorta is definitely someone to keep an eye on if you are looking for Tight Ends.
Thank You for checking out our SGPN 2023 Superflex Mock Draft with Dave and our guest analysts. Be on a lookout for more 2023 draft content coming out in the near future as well.