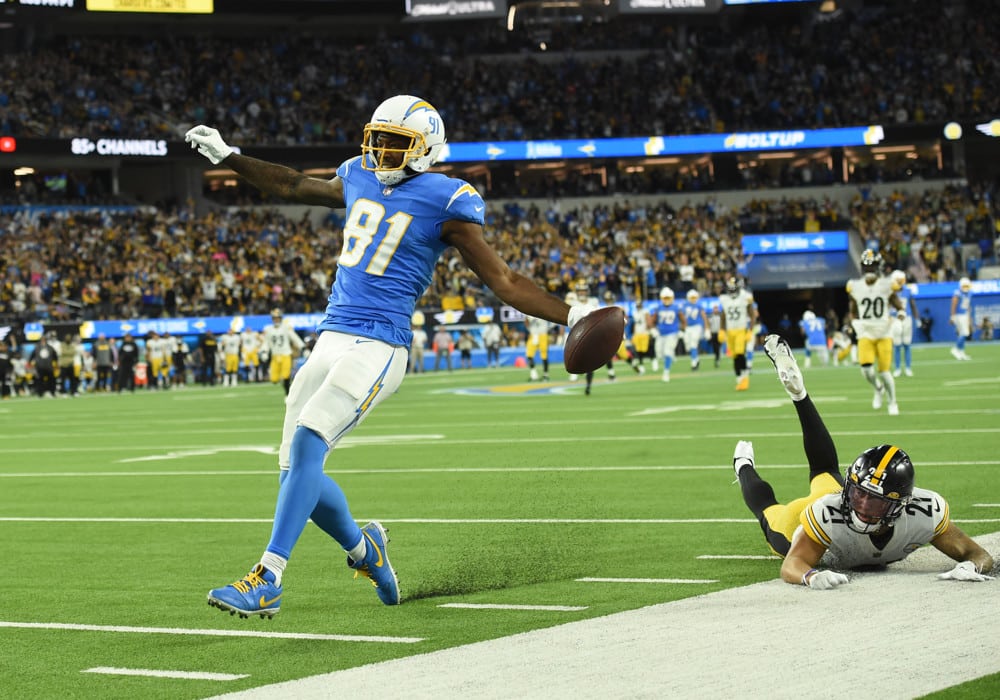 Last season, Cooper Kupp, Deebo Samuel, Ja'Marr Chase, and Hunter Renfrow were all drafted as the WR2 on their own teams. They finished the 2021 season as the overall WR1, WR3, WR5, and WR10, respectively. ADP is a lie. This year I am back for more with a whole new set of wideouts for the 2022 WR2 Theory. But what does WR2 Theory look like in action when the draft bullets are flying in the heat of life and death fantasy drafting?
This article will walk you through a 12 Team PPR draft using WR2 Theory to practically show you how to successfully build a winning roster that is loaded with upside at the wide receiver position. We will be drafting from the 6th spot and using Fantasy Pro ADP as our guide. WR2 Theory works from any position on the draft board, but drafting from the 6th position provides more flexibility to react to your draft as it unfolds. 

MORE SGPN FANTASY FOOTBALL CONTENT
SGPN Fantasy Football Draft Cheat Sheets
2022 SGPN Fantasy Football Draft Kit
SGPN Fantasy Football Rankings
SGPN Fantasy Football Projections
Fantasy Football: How to Draft WR2
Rounds 1-2 
Most undervalued wide receivers aren't typically found in the first few rounds of drafts, so we will use these rounds to load up on running backs and premium tight-ends. Targeting specific PPR backs with upside is helpful, given your limited overall exposure to the running back position. 
Round 1 – 1.06 – Running Back
Najee Harris – Pittsburgh Steelers – RB5
Najee Harris was a PPR monster last year, finishing tied for first with Austin Ekeler while amassing 94 targets. Harris is still the only game in town for the Pittsburgh Steelers this season. Ben Roethlisberger's departure actually might be a good thing for this offense.  
Harris carried the ball 307 times last year second most in the NFL, and only nine of those times were inside the five-yard line. He appears to be poised for some positive touchdown regression, after only punching it in seven times last year. Harris should rush for double-digit scores, further cementing his floor and expanding his ceiling. 
PFF predicts 1,620 total yards for Najee Harris in 2022.
Too low, or too high? #Steelers #NFL pic.twitter.com/QUq0QSyhqg
— Steelers Depot 7⃣ (@Steelersdepot) August 25, 2022
Derrick Henry – Tennessee Titans – RB6
Derrick Henry's 24.2 points per game last season was a whole 2.3 more points per game than Jonathan Taylor's. Henry was on pace to score an eye-popping 411 fantasy points. Henry's surgically-repaired foot, steel plate included, is all healed up and ready for another run at the record books. Word on the street is he's after another 2,000-yard rushing season. All hail the King if he succeeds. 
Henry recently took to Yahoo Fantasy Sports Twitter to rightfully scold ZeroRB enthusiasts who are leading others astray (insert Denny Carter from Rotoworld). "So you're telling me, you are going to come up to my face and cancel running backs?" If I ever make it to King Henry's face I will quickly show him this article imploring fantasy managers to draft him. 
Thinking about using a zero-RB [email protected]_2 has something to say about that 😤 pic.twitter.com/LTvY6zy4xj
— Yahoo Fantasy Sports (@YahooFantasy) August 25, 2022
Round 2 – 2.07 – Running Back
Aaron Jones – Green Bay Packers – RB10
Without Davante Adams in the Packers' lineup, Aaron Jones has averaged 22.9 FPPG. This includes 10 total touchdowns in those eight games. This season will be drastically different for Aaron Rodgers and the Pack. According to John Daigle of 4FOR4.com, the Packers have over 240 vacated targets that need a new home.
The emergence of A.J. Dillon last season shouldn't scare you away from Jones in 2022. Last season his 65 targets tied him for seventh most amongst running backs with Ezekiel Elliott. Jones averaged 5.9 targets without Adams, which is close to 100 targets when extrapolated out for a full 17-games season. His PPR floor is completely solid.
Aaron Jones in the last 7 games without Davante Adams:
– 36 catches
– 388 receiving yards
– 4 receiving TD
– 25.7 fantasy points/game pic.twitter.com/W3RDeGnJ6P
— Field Yates (@FieldYates) August 26, 2022
Saquon Barkley – New York Giants – RB11
Saquon Barkley, on the other hand, is a complete wild-card who has utterly disappointed fantasy managers the last two seasons after delivering them fantasy glory in his rookie campaign. Stephania Bell from ESPN recently spoke with him at training camp and revealed on Chalk Blocked that his nagging injuries last year had hampered his return.
Barkley is betting on himself this season, already declaring, "Do I feel like I am back? I feel like I'm better." The reports from New York Giants training camp have all been positive as well. The tide is also slowly turning in the fantasy football community, with Saquon truthers planting their flags all over Twitter. He's a gamble, but one that has the potential to pay off. 
Saquon Barkley looks like 2018/2019 Saquon. 80 + catch season incoming. pic.twitter.com/oczfWOYmCo
— TheOGfantasyfootball (@TheOGfantasy) August 3, 2022
Round 3 – 3.06 – Wide Receiver 
AJ Brown – Philadelphia Eagles – WR12
Technically, AJ Brown is not a WR2 but if he's available I will grab him 100 percent of the time every time. Done end of the story. He is a grown-ass man. End of story.
Jalen Hurts with a DOT to AJ Brown🎯
(🎥via @Eagles)
pic.twitter.com/MC4a6aVfiI
— PFF Fantasy Football (@PFF_Fantasy) August 19, 2022
Tee Higgins – Cincinnati Bengals – WR13
Last season Tee Higgins was drafted as the WR1 on the Bengals. Higgins's 15.6 FPPG ranked 13th for wide receivers and he only scored six touchdowns in 2021. Joe Burrow threw 34 touchdowns in his sophomore season. It doesn't take a rocket scientist to see that Higgins is a sleeping giant in the Bengals' offense, dripping with touchdown upside. 
I'm not predicting that Higgins supplants Ja'Marr Chase as the WR1 by season's end, but I am predicting that both will be top 10 wide receivers this season with double-digit touchdowns. Higgins is a great WR1 to build your fantasy team around who you can get in the third round. Wheels up. 
Joe Burrow is ready to air it out to Ja'Marr Chase and Tee Higgins 🚀 pic.twitter.com/Sg2W3JPMAd
— PFF Fantasy Football (@PFF_Fantasy) August 25, 2022
Round 4 – 4.07 – Wide Receiver
Jaylen Waddle – Miami Dolphins – WR16
With "The cheetah" Tyreek Hill as his running mate, Jaylen Waddle is going to see some more one-on-one coverages that are advantageous to your fantasy bottom line. Waddle only scored six touchdowns last season. Mike McDaniel will change that. 
According to Dante Collinelli from DolphinsTalk.com "The West Coast passing offense is comprised of a lot of slants and crossing routes. Those combined, with the wide zone running the offense, make for a deadly play-action passing game that stresses linebackers to their extreme." Waddle Against a linebacker is just plain unfair.  Look for him to be peppered with Targets this year. "Lethal" 
Eric Rowe says the Dolphins are 'lethal' when Jaylen Waddle and Tyreek Hill line up on the same side of the field 👀
(h/t the Miami Herald) pic.twitter.com/3eIlweqYxb
— Dolphin Nation (@Dolphin_Nation) August 20, 2022
Mike Williams – Los Angeles Chargers – WR17 
Last year Mike Williams finished 11 points behind Keenan Allen. According to fantasypros.com, Williams is currently being drafted eight wide receiver spots after Keenan Allen as the WR17. The value here is criminal, and it's the reason Williams is the WR2Theory poster boy for 2022. 
Drafting Allen at the WR9 is his absolute ceiling. Williams at WR17 has a tremendous floor baked into his ADP with Justin Herbert as his quarterback. Still not sold? Williams averaged 3.2 fantasy points per touch last season to Allen's 2.4. Do the math yourself. Skip Allen this season and draft Williams. Your fantasy team will thank you.
Brandon Staley telling the rookie DBs they gotta cover Keenan Allen and Mike Williams might be the coldest shit ive ever heard in my life 😭😂 pic.twitter.com/9YLcPLIv3F
— Jesse Reeves (@JesseReevesFF) August 23, 2022
Round 5 – 5.06 – Wide Receiver 
Allen Robinson – Los Angeles Rams – WR22 
Last season the Los Angeles Rams scored the most fantasy football points at the wide receiver position. No more Odell Beckham jr., and enter Allen Robinson. How could you not be excited for Robinson? From Blake Bortles, Mitch Trubisky, and Justin Fields to Super Bowl-winning quarterback Matthew Stafford. Lining up with Cooper Kupp doesn't suck, either. 
Odell Beckham Jr. lived his Cinderella story last year with the Rams. I'm all in for Allen Robinson fitting into the fantasy glass slipper this season. Matt Harmon of Yahoo Fantasy and Reception Perception said, "Any argument that Allen Robinson is washed is completely ridiculous." Word on the beat reporter streets is that Robinson is thriving with Stafford. He is quickly becoming one of Stafford's most reliable targets, hauling in targets in the middle of the field. In Robinson, we trust.
Look ma, one hand. 👋
1️⃣ @AllenRobinson pic.twitter.com/Ob3srlhx6u
— Los Angeles Rams (@RamsNFL) August 4, 2022
Chris Godwin – Tampa Bay Buccaneers – WR25 
Chris Godwin's ADP is being depressed by his knee injury and his return timetable, which will probably keep him out for the first couple of weeks of the season. Nobody likes drafting a player in the fifth round who won't help you win the first few weeks of the season. I get it. I get it. Safety first (eye roll).
Dustin Lewis of Si.com reported that Todd Bowles said, "He got some good work in. He's getting better. He's getting his wind up, he's getting his legs under him, but he's getting better. Obviously, no contact or anything, but he's getting better every week." The news has all been positive, with no apparent setbacks to date. 
When Godwin does return, he will still be one of the most dynamic slot receivers in the NFL and he will still be catching passes from the GOAT Tom Brady. Godwin's 17.3 FPPG was good enough for seventh best in the NFL. When he's healthy, he's close to unstoppable. I have and will draft Godwin. 
Round 6 – 6.07 – Wide Receiver 
Gabriel Davis – Buffalo Bills – WR33
Admittedly the offseason hype has the four-touchdown playoff game against the Chiefs sent his ADP into orbit. Rightly so, if we are being honest. Josh Allen is a potential NFL Hall of Fame quarterback in his early prime with a cannon arm and a wide receiving arsenal that looks close to unstoppable, even in the vaunted AFC East.
Let's look at the numbers from 2021. Davis performed well during the regular season, earning a 73.7 PFF grade. That's all well and good, but he went total beast mode in the playoffs, turning his 13 targets into ten receptions for 242 yards and five touchdowns. His 92.3 PFF ranking was the best of any playoff wide receiver. The future is now with Gabe Davis. Shake off the haters and join the team winning!
Josh Allen is ready for the season.
Elite.pic.twitter.com/kNaiHWua3M
— Dov Kleiman (@NFL_DovKleiman) August 20, 2022
Hunter Renfrow – Las Vegas Raiders – WR35
Hunter Renfrow is the perfect WR2 Theory candidate. He finished as the overall WR10 last year in PRR. This current ADP is wild. I get that Davante Adams is the WR1 and Darren Waller is a thing, but still, this is just stupid. Renfrow had a ridiculous 80% reception rate; why is Derek Carr suddenly going to ignore him? I didn't realize that Adams was a slot receiver. I'll adjust my ranks.
With the addition of Adams, Renfrow will be further ignored, increasing the potential for favorable one-on-one matchups. Renfrow might not score 260 fantasy points, but he's definitely going to score more than 170. That's the average score the WR36 scored in the last five years. Adjust.
Round 7 – 7.06 – Running Back 
Rhamondre Stevenson – New England Patriots – RB33
The Patriots chose not to pick up Damien Harris, his fifth-year option letting the running back walk at the end of the season. Rhamondre Stevenson has been shooting up draft boards all summer long. The NBC/Rotoworld panel at the Fantasy Football Expo, to a man, projected Stevenson as the Patriots' back to roster in 2022. Who am I to go against, Patrick Dougherty or Denny Carter?
Also, though, I agree that Steveson will be the lead back come the season's end. Stevenson only has 70 fewer carries than Harris in 2021. Jared Dubbin of CBSSports.com reported, "With James White retiring, New England's top two backs are likely to be Damien Harris and Rhamondre Stevenson — and Bill Belichick sees them both operating in more traditional three-down roles that we're used to seeing running backs, rather than switching off situationally." All good news for Stevenson. 
Rhamondre Stevenson is earning the trust of Bill Belichick 👀 pic.twitter.com/kusorsGjUD
— PFF Fantasy Football (@PFF_Fantasy) August 16, 2022
Dameon Pierce – Houston Texans – RB37
Dameon Pierce is the hottest rookie running back, not named Bruce Hall right now. He's flying off of daft boards with a quickness. I featured him in the seventh round because he just went in the eighth round of a live draft I participated in.
The Houston Texans rookie running back appears to be leading the backfield battle with veteran running back Marlon Mack. The Texans' offense should be improved this year which presents a very interesting fantasy opportunity for Pierce. As the Texans' potential starter, he projects out between 145-160 fantasy points, which is an RB3. I'd prefer Stevenson, but I would settle for Pierce in this draft build. 
Round 8 – 8.07 – Running Back 
Melvin Gordon – Denver Broncos – RB36
Melvin Gordon was still hanging around in the 10th round of a live draft I just completed. The value is just insane on him right now. I understand Javonte Williams will probably end up outproducing him, but at the cost, you're getting a great deal. I baited him last year to my own regret. Don't be stupid like me last year. 
The Broncos are going to get the best out of both running backs. Zack Kelberman of Si.com reported that head coach Nathaniel Hackett proclaimed Wednesday, "Melvin—when he comes out there, he looks like a big, strong running back, and we're just excited to feed him the rock and give him the ball a lot." A lot sounds good to me when Russell Wilson will be the one getting it to him a lot.  
James Cook – Buffalo Bills – RB38
Kyle Brandt of Good Morning Football on the NFL Network said, " Do not let the Bills get a superstar running back. Don't do it. Then we got real problems." He was speaking over James Cook's preseason highlights, where he compared his running style to Alvin Kamara. Great company to be mentioned, considering the Bills need a PPR back. 
Cook's training camp reports have been favorable as well. Bill D'Abate from Si.com reported, "Cook is also quite adept as a receiver both out of the backfield and split out wide. In the Bills offense, Cook is quickly proving that he could play multiple roles, potentially becoming a versatile, all-purpose threat in both the passing game and the running game." Let there be rookies!!
James Cook flashing early 👀
pic.twitter.com/gUAP48F4Vw
— Dynasty Nerds 🤓 (@DynastyNerds) August 20, 2022
Round 9 – 9.06 – Running Back
Kenneth Gainwell – Philadelphia Eagles – RB43
Reports from the Philadelphia Eagles training camp are that Kenneth Gainwell has been seeing goal-line touches. The plot thickens. Rotowire Staff reported that "Since playing the first series of the Eagles' exhibition opener with the first-team offense, Miles Sanders has been tending to a sore hamstring, which has kept him sidelined at practice."
The door is wide open for Gainwell to be one of those ZeroRB guys that all those nerds are always talking about. Another reason to be on Gainwell this year is that the Eagles became a really good running team last year. Future NFL Hall of Famer Jason Kelce is back to literally center the offensive line, which daddy likes. Gainwell will do you well in 2022. 
All Kenneth Gainwell touches.
NFL Preseason Week 3. pic.twitter.com/EnfR0qBYZA
— Zareh Kantzabedian (@ZKantzFF) August 22, 2022
James Robinson – Jacksonville Jaguars – RB44
A lot of people do not believe that James Robinson is actually going to come back from an Achilles tear that happened last December. I will remind you that it was not a full tear of his Achilles but a partial tear. This is great news for James Robinson and even better news for you if you're drafting him this year. Yes, Travis Etienne is real, but James Robinson is going to be the goal line back and see close to 200 touches. 
You might have to wait a few weeks for James Robinson to get going, but if you're that concerned, you can draft him and then stash him on your IR. Pick Snoop Connor up off the waiver wire and see what happens. I just grabbed him in the 11th round as my RB4. 
Round 10 – 10.07 – Quarterback
Kirk Cousins – Minnesota Vikings – QB14
The Vikings must have seen Mike Zimmer's cougar model's Instagram account and canceled him for outkicking his coverage. You like that?! I do a lot. So does Captain Kirk Cousin, who is ready to blast off into QB1 space under his new pass-happy coach Kevin O'Connell. It really makes no sense because last year, Kirk finished as the quarterback 11, averaging 18.8 fantasy points per game, and Fisheries quarterback 14. Go figure. People suck at math.
A healthy Adam Thielen. A healthy Irv Smith Jr. Justin Jefferson. Dalvin Cook. K.J. Osborne. This offense is going to hum. In case you don't know. Last year the Vikings scored the third-most fantasy football points out of any team at the wide receiver position. Only the Rams and Buccaneers wide receivers scored more fantasy points. Beam me up, Captain. 
Tua Tagovailoa – Miami Dolphins – QB16 
Tyreek Hill is going to change the game for Tua Tagovailoa. His first pass of the Week 3 preseason game against the Eagles was a 51-yard bomb to Hill. Tua is going to be dangerous this year. I'm a huge proponent of JJ Zachariason's "Late Round QB" strategy. This might be the perfect fit. New coach. Check. High-volume passing offense. Check. Tyreek "freaking" Hill. Check. 
Quarterback 16 is absolutely filthy value at this point in your home league drafts. I just snagged him as my QB2 in the 12th round, and I might need a minute to adjust my pants…I mean ranks. The addition of PPR back Chase Edmonds also should bolster Tua's fantasy production as well. I'm all in and have secured him now in three leagues. 
Tua to Tyreek to open the game ‼️@tua | @cheetah
📱: Stream #PHIvsMIA on NFL+ https://t.co/6NpGYjnh74 pic.twitter.com/UPBQ8lzHTy
— NFL (@NFL) August 27, 2022
Round 11 – 11.06 – Wide Receiver 
Skyy Moore – Kansas City Chiefs – WR52 
The Chiefs looked at their wide receiver room after trading Tyreek Hill and saw only saw Mecole Hardman. The next day they basically hung up a "Wide Receiver Needed" sign in their window. They signed Juju smith-Schuster and Marquez Valdes-Scantling, and, still not satisfied, they drafted Skyy Moore and his 4.41 speed. Smart move. 
According to Charles Goldman of Chiefswire.com "After winning so many repetitions in practice as a receiver, the coaching staff has been exploring the different things that he can do…They're even lining him up in the backfield at running back." Look for the Chiefs to line Moore up all over the field but primarily run him out of the slot. There are 340 vacated target opportunities available in the Chiefs' offense. My money is on more targets for Moore.  
George Pickens – Pittsburgh Steelers – WR54 
Diontae Jonhson is not getting 169 targets this year. I expect George Pickens to vulture a handful of those targets. Mark Kaboly of The Atheltic reported, "Pickens has been the star of camp, consistently making play after play, which is highly unusual for a rookie receiver. You would expect to see flashes, but not every day. And I mean every day."
Pickens ADP has been on fire!! He's coming off the board at the beginning of the 11th round, which is a fair price to pay for a dynamic big-play wide receiver whose Player Profiler comp is Jerry Jeudy. The Steelers' offense needs his speed and size on the edge to create plays downfield. He should see 100 targets this season. (FUCK!! He just went in the 9th round of a PPR home league draft I'm currently in). Get him when you can!
George Pickens 🤣 lololol #Steelers #NFL pic.twitter.com/QG0y7xI19H
— BlitzburghUSAVideos (@sdextrasmedia) August 25, 2022
Round 12 – 12.07 – Tight End
Irv Smith Jr. – Minnesota Vikings – TE15 
Irv Smith is an athletic tight end who flashed upside in 2020 before getting injured and missing all of the 2021 season. Kevin O'Connell and the Vikings offense this season is going to be an ariel-focused attack this year. I expect a person to play a big part in that offense he is currently being swept. Being drafted, being left for dead in the later rounds. 
The defenses the Vikings face will have their hands tied trying to cover Justin Jefferson and Adam Thielen, advantage Smith Jr. We've already seen the two-touchdown performance he brings any given Sunday. If he stays healthy all season, he's a top 12 tight end.
Albert Okwuegbunam – Denver Broncos – TE16 
Albert Okwuegbunam Went from playing with Drew lock, who just threw another interception in a preseason game, to "Mr. Unlimited" Russell Wilson. I would have loved to have been a part of that conversation with Albert O. "We've traded away your competition at the tight end position for Russell Wilson."
I'm sure he had trouble sleeping that night in anticipation of handling Russ Wilson's unlimited balls. I mean, who wouldn't? I'm pretty sure that night D.K. Metcalf and Tyler Lockett had their own trouble sleeping. The infusion of Wilson into the Denver Broncos offense increases every skilled position player's fantasy value. Albert O is live! 
Round 13 – 13.06 – Tight End
David Njoku – Cleveland Browns – TE17
The Cleveland Browns said goodbye to Austin Hooper in the offseason. Then they signed David Njoku to a long-term extension, cementing him as their starting tight end. Don't let the quarterback drama fool you. 
According to Devin Lange from Fanside.com, "In 2021, Miami Dolphins tight end Mike Gesicki averaged 7.8 targets per game when Brissett was the starting quarterback. In these four games, Gesicki had at least 7 targets and at most 12 targets in all games." Have you seen David Njoku? I would target him every play of every game. He's a monster.
In full starts by Jacoby Brissett, Mike Gesicki averaged 8 targets per game with 20% target share.
🐬 Gesicki's PPR ppg in that span: 12.0
💎 Dalton Schultz (TE4) PPR ppg: 12.0
🔮 David Njoku could lead CLE in targets
Njoku is the TE18 in PPR according to @Footballguys ADP 🤷🏻‍♂️ pic.twitter.com/7AuaDZO0p9
— Alfredo Brown (@ThePretendGM) August 21, 2022
Gerald Everett – Los Angeles Chargers – TE19 
Last season Jared Cook's 57% reception rate was terrible. Justin Herbert deserves much better. And this year, he has it in Gerald Everett. His 76% catch rate is a dramatic 19% improvement. Everett is seven years younger than long in the tooth Cook. Tight end 19 is a great value for Everett, and I'll be scooping him on most of my teams. And….I just nabbed him in the 15th round of a home league draft.
Round 14 – 14.07 – Wide Receiver 
Jalen Tolbert – Dallas Cowboys – WR73
The secret is out on Jalen Tolbert. People are finally beginning to come to the realization that with no Michael Gallup, the Dallas Cowboys are going to need an outside wide receiver. Good thing they drafted Tolbert (wink). Dallas wide receivers scored the fifth-most fantasy points last season. Gallup is coming back in most likely November, Amari Cooper was traded to the Browns, and Cedric Wilson is in Miami now.
Tolbert might not scream success immediately, but he's got 10-inch hands. How can you not love that? For that fact alone. I have him on almost every single Dynasty team. On my Scott Fishbowl team. I have him on my team in your mom's league. Everywhere.
Isaiah McKenzie – Buffalo Bills – WR78
I just heard Dave Richard from CBS Fantasy Sports hail Isaiah McKenzie as one of his deep sleepers for 2022. Put it on the board! Dave Richards says it. I believe it. I'm all about it, and also I believe it myself, too, because I understand that the slot receiver in the Buffalo offense gets a ton of volume. Just look at Cole Beasley last year or the year before, or the year before. 
Surprisingly, Isaiah McKenzie is basically free in the offense that scored the fourth most fantasy points four the wide receiver position. I'm not worried about an aging Jamison Crowder, nor should you my friend. It's Mckenzie Szn!
RELATED CONTENT