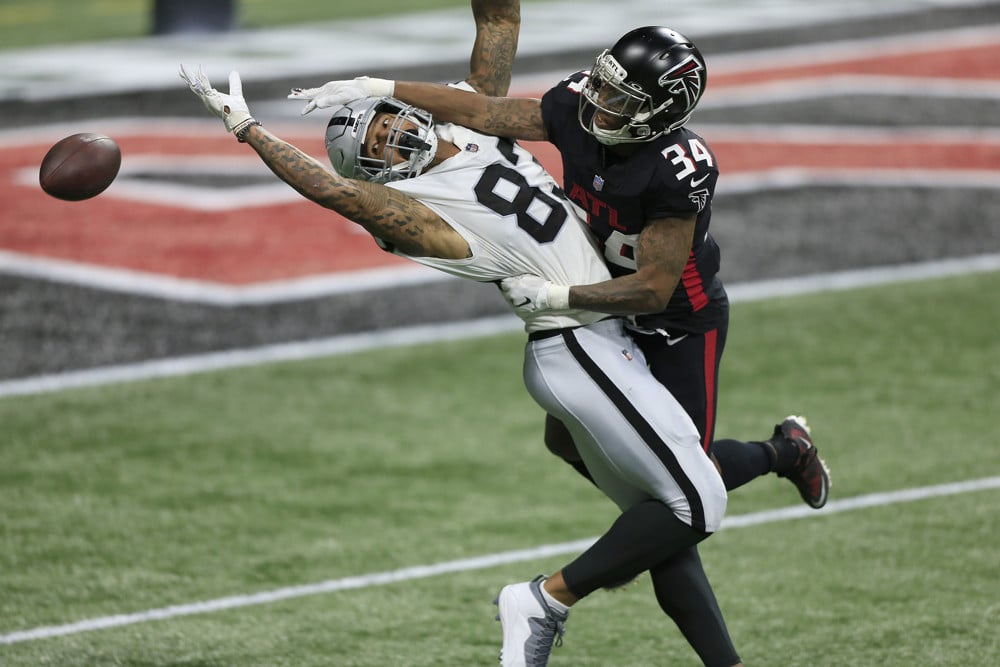 This is not a drill! Preseason is officially over, and now it's time for the real fun to begin. After training camp and three preseason games, there has been a ton of NFL injury news. With just over a week away from the start of the regular season, it is prime time for Fantasy Football drafts. Let's see where your favorite players stand in this Fantasy Football Preseason Injury Update.

MORE SGPN FANTASY FOOTBALL CONTENT
SGPN Fantasy Football Draft Cheat Sheets
2022 SGPN Fantasy Football Draft Kit
SGPN Fantasy Football Rankings
SGPN Fantasy Football Projections
Fantasy Football Preseason Injury Update
James Washington (WR) Dallas Cowboys
Jones Fracture, Initial Injury: 8/1/2022
The Dallas Cowboys are heading into the 2022 season on the wrong side of the injury report. After losing WR1 Amari Cooper in the offseason, there were some question marks amongst the WR group. Former Steelers WR James Washington was brought in to compete for the starting WR3 role and answer some questions. However, Washington suffered a Jones fracture early in August and will now miss the early part of the season.
A Jones fracture refers to a broken bone at the base of his pinky toe. This is a fairly common injury among athletes but one that comes with a frustrating recovery window. Typically it takes between six and ten weeks for a full recovery, but that is all dependent on how quickly the bone heals. Intense rehab cannot start until that bone is fully healed. Washington has been moved to the short-term IR, meaning he will miss at least four games. This injury, combined with fellow Dallas WR Michael Gallup's injury, means Dallas will be searching for a WR2 to start the year. Insert rookie WR Jalen Tolbert or veteran WR Noah Brown.
Van Jefferson (WR) Los Angeles Rams
Knee Surgery, Initial Injury: 8/1/22
This fantasy football preseason injury update comes with a little bit of mystery out of Los Angeles. Rams young WR Van Jefferson was looking to cement his role as WR3 this offseason. Unfortunately, Jefferson has had more surgeries than catches this preseason. The Rams WR had an undisclosed planned surgery done on his knee this offseason and, in early August, required a second unplanned procedure.
Jefferson reportedly tweaked his knee in practice which caused the need for a second surgery. The good news is that both surgeries are described as minor, and there is an expectation that Jefferson will be back in the early part of the season. His Week 1 availability is in question as the Rams are uncertain about his recovery timetable as of now. Jefferson has a chance to play Week 1, but it would likely be in a limited role. Two surgeries to one knee in the same offseason definitely brings a fair amount of caution in drafting the Rams WR3.  His absence from practice has only given other young WRs a chance to claim their stake as WR3 in this offense.
Tim Patrick (WR) Denver Broncos
ACL Tear, Initial Injury: 8/2/22
One of the Bronco's top WRs coming into the year Tim Patrick, will unfortunately not play a single snap this season. Patrick led the team in receiving touchdowns last season and was poised for a big role in this offense with new QB Russel Wilson at the helm. A practice earlier this month derailed those dreams, as he suffered a season-ending ACL tear on a noncontact injury.
The ACL is the main stabilizing ligament in the knee, which allows players to decelerate and change directions quickly. The Broncos WR has a long recovery road in front of him as it takes around 11.5 months for a player to return to the field post ACL tear. Certain to miss the entire 2022 season, Patrick is obviously not draft-able.
Drake London (WR) Atlanta Falcons
Knee Injury, Initial Injury: 8/12/22
Rookie WR Drake London comes into the NFL in a unique situation. He is quite likely the best WR on his team (not including suspended Calvin Ridley and TE Kyle Pitts). Now, this may speak more to the fact that the Falcons WR group is laughable at best. However, this gives the rookie a clear path to a high target volume right out of the gate. This may give him the most upside out of anyone on this preseason injury update.
The only problem with this scenario is that London has to be on the field to make an impact. In his first preseason game, the Atlanta WR suffered a knee injury and has not been seen practicing since. The Falcons are being tight-lipped regarding the nature of the injury, but head coach Arthur Smith seems optimistic. He states, "I feel good about where he's at" in reference to the rookie WR's game one status. At this point, I would need to see the rookie get some practices under his belt to feel confident about him in Week 1, but his opportunity to be Atlanta's WR1 is undeniable.
Gus Edwards (RB) Baltimore Ravens
ACL Tear, Initial Injury: 9/9/21
I fully expect Baltimore's backfield to be frustrating for fantasy owners this year. With both of their projected top backs returning from ACL tears, this brings some uncertainty to start the season. Ravens RB Gus Edwards injured his knee in practice early last season and did not record a single carry. On the bright side, Edwards' injury was contained to only his ACL, and he did not suffer any other ligament damage. With just over a year to recover, it appears Edwards is still not ready to return to the field as he was placed on the PUP. He will miss at least four games and come back to a crowded RB group.
John Metchie III (WR) Houston Texans
ACL Tear/Leukemia, Initial Injury: 12/4/21
Texans rookie WR John Metchie III is the epitome of resilience in his young career. The Houston WR was in the middle of his ACL tear recovery when he found out that he was also suffering from leukemia. The significant knee injury he suffered at the end of his college career would have kept him out a portion of the season. However, he is set to miss the entire 2022 season to focus on his Leukemia treatment and recovery. I know I am not alone in wishing the young Texans WR a speedy recovery back to the football field.
Michael Thomas (WR) New Orleans Saints
Hamstring Injury, Initial Injury: 8/17/22
The lock of the past two years has been finding Michael Thomas landing on a fantasy football injury report. This preseason injury update is no different! After dealing with ankle issues for two straight seasons, he was finally getting to the point where he could fully participate in practice. Of course, just as soon as he was healthy, Thomas found himself with a new nagging injury. I had my doubts about Thomas coming into the season, and this has only worsened with the recent news of his hamstring injury.
To this point, the injury has caused him to miss two weeks of practice with no clear update on when he will return. For a guy who didn't play a single snap all last season, he is not someone who can afford to be missing snaps. Hamstring injuries are brutal injuries that can easily linger into the season and limit a player's explosiveness. At this point if you are drafting Thomas anywhere near his ADP, he just enjoys taking ill-advised risks.
Darren Waller (TE) Las Vegas Raiders
Hamstring Injury, Initial Injury: 7/28/22
Now for the cover man for our fantasy football preseason update. The Las Vegas Raiders have brought in some new faces on the offense to try and keep pace with the high-powered AFC West. This team's success also relies on their current star players to produce as well. TE Darren Waller provides us with one of the most interesting fantasy football preseason injury updates. Waller has missed the majority of the Raider's training camp and all of their preseason games. At first, it was assumed this was due to contract negotiation issues, but it later surfaced it was due to a hamstring injury.
This should be somewhat alarming to Raider fans and fantasy owners alike. Hamstring injuries are one of the most burdensome injuries in the league that result in missed playing time. A big reason for this is due to their high reinjury rates, as it is difficult to gauge how healthy the muscle is in rehab. It appears Waller suffered from one of these setbacks as he returned for one practice a few weeks ago and immediately missed the next four practices.
As a fantasy player expected to produce at a very high level this year, this injury raises some concerns. The good news is he reportedly returned to practice again this week. We've seen this story before, however, so if you are eyeing Waller in your drafts, you need to monitor this situation closely! He needs to show he can consistently practice and test that hamstring with no setbacks before the season.
Daniel Bellinger (TE) New York Giants
Concussion, Initial Injury: 8/28/22
Injuries and the New York Giants go together like the New York Giants and losing seasons in recent history. Projected starting TE for this offense, rookie Daniel Bellinger suffered a concussion in the team's final preseason game. A concussion is a mild traumatic brain injury that is still largely a mystery in a medical sense. Typically this injury takes 1-2 weeks to return to play, but symptoms can differ for everyone.
Fortunately for the young TE, it appears he will be ready to go come Week 1. With still over a week until the NFL season begins, Bellinger was back at practice and progressing through the league's concussion protocol. Now just because he will likely be in the starting lineup for Week 1 doesn't mean I recommend drafting the rookie. There are still a ton of questions surrounding this Giants offense, and there is still a likely chance the team brings in a veteran TE before the season. Hopefully, the Giants can keep the injury updates just to the preseason this year.
JK Dobbins (RB) Baltimore Ravens
ACL Tear, Initial Injury: 8/28/21 
Here comes my hot take on this fantasy football preseason injury update. JK Dobbins has received A LOT of hype this offseason, particularly from the fantasy football community. I am not among those simply expecting Dobbins to come back and have an amazing year. I actually think the Ravens backfield will be a headache for fantasy owners this season with a good Oline and stable of capable RBs. Dobbins suffered not only an ACL tear but also damage to his LCL ligament. Both ligaments serve to stabilize the knee in different planes of motion, and multi-ligament injuries tend to complicate recovery. More damage to the knee comes with more concern for the player to return to their pre-injury playing level quickly.
There has been no timetable set for Dobbins's return to this point, and he has not seen any live action yet. With no preseason or 11-on-11 reps, I find it hard to believe he will be ready for a big workload early in the season. Another indication for Dobbins seeing a lighter workload is the late signing of RB Kenyan Drake. Just as we witnessed with Saquon Barkley last year, we can not just assume these guys will come back and perform at high levels. At this point, I would have a hard time taking Dobbins in the first six rounds of a draft at this point.
N'Keal Harry (WR) Chicago Bears
High Ankle Sprain, Initial Injury: 8/6/22
New Chicago WR N'Keal Harry was turning some heads in the offseason with his new team. After trading away their WR1 in Allen Robinson, the Bears were looking for someone new to step up in the offense. There was optimism that Harry could do just that, but this has since changed as he injured his ankle a few weeks ago. The injury was a high ankle sprain that caused enough damage that a tightrope surgery was used to fix the ligaments.
A high ankle sprain refers to damage to the ligaments that hold together your two lower leg bones. The injury occurs above the ankle, and it requires much more recovery time than a typical low ankle sprain. Harry is looking at around an eight-week recovery with this injury if there are no setbacks. His recovery does seem to be off to a good point up until this point as Chicago has decided not to put him on the short-term IR. With the team expecting him to be back before Week 4, this makes him an interesting late fantasy addition. You could get teams, likely WR2, for free; it's just that team is the lowly Chicago Bears.
Michael Gallup (WR) Dallas Cowboys
ACL tear, Initial Injury: 1/2/2022
The Dallas Cowboys have been hit with some unexpected bad news on the injury front this off-season. After taking some hits to their WR group and Oline, the Cowboys figured they would have to deal with their WR2 being out to start the season. However, Dallas WR Michael Gallup may not be sidelined as long as originally expected. Suffering an ACL tear near the end of a season almost guarantees you will miss some games the following year. While I still think he will miss some time, the signs out of Cowboys camp point to this being less than originally expected.
An ACL tear typically takes NFL players around 11.5 months to fully recover and return to playing. Gallup will only be 8.5 months in his recovery once Week 1 hits. Earlier in the offseason, I was expecting him to miss at least the first four to six games. It seems Dallas has other ideas, as Gallup has surprisingly been moved off the PUP to start the season after passing his physical. With Amari Cooper moving on in the offseason, this leaves a lot of targets left on an offense with very little proven WR talent outside of CeeDee Lamb.
Robert Tonyan (TE) Green Bay Packers
ACL Tear, Initial Injury: 10/28/21
Finally, some positive analysis for this preseason injury update. Green Bay TE is a player I am actually surprisingly high on despite coming off an ACL tear last season. Tonyan will have 10.5 months of recovery time by the start of the season, which is slightly less than average but still well within the appropriate recovery window. He also has not suffered any setbacks in his rehab and is progressing well. Getting his first 11-on-11 reps with the starters in practice this week is a big step, and he is trending in the right direction for Week 1.
With how low he is being drafted, Tonyan is a good, low-risk, high-reward TE option. When he was at his best, he was a big target who Rodgers loved finding in the endzone. Tonyan still maintains his big frame, and with Davante Adams moving on, this leaves a lot of red zone targets up for grabs. I expect the Green Bay TE to have a slower start to the year and pick up steam around Week 4 or 5.
Zach Wilson (QB) New York Jets
Bone Bruise, Injury Date: 8/12/22
The young New York Jets QB gave every fan and fantasy owner a scare this preseason. After going down awkwardly after making a cut while scrambling, the internet took over and assumed the worst. Fortunately for Wilson, he only suffered a bone bruise and meniscus tear in his knee and not an ACL tear. He had surgery to remove the injured part of his meniscus and has to give his bone time to heal from the bruise.
The recovery window provided by the team was four to six weeks. With Week 1 under a month from Wilson's surgery date, it is unlikely that he will be the Week 1 starter. The Jets have not ruled him out yet. However, they are going to air on the side of caution with their hopeful franchise QB. Coming off an uninspiring rookie season, I would not be drafting Wilson as a reliable fantasy QB option anyway, and the injury only furthers this opinion.
Robert Woods (WR) Tennessee Titans
ACL Tear, Initial Injury: 11/3/21
To wrap up this preseason injury update, former Los Angeles Rams WR Robert Woods injured his knee in practice in the middle of last season. The injury was quickly confirmed to be an ACL tear and ultimately ended his Rams career. Woods is now a member of the Tennessee Titans and is looking for a fresh start. The opportunity for the new Titans WR will undoubtedly be there as Tennessee parted ways with both Julio Jones and AJ Brown this offseason.
Robert Woods presents an interesting case that will affect your fantasy football risk tolerance. On the plus side, the target volume should be there as a healthy Woods is a clear WR1 in Tennessee. However, since the injury occurred in November, Woods will likely not be 100% to start the season. I originally was much more skeptical about Woods coming into the year, but his practice participation has changed this some. 
Woods has been an active participant in fall camp and even had some limited practices in May OTAs. This gradual ramp-up in activities with no setbacks was solidified by his participation in the team's last preseason game. Now he did not get a ton of playing time, but the fact the team felt good enough for him to be out there says a lot about his health status. I actually think Woods may be one of the few players coming off a major injury to take a chance on this fantasy football season. 
Suspensions:
A quick reminder of the impact of Fantasy Football players who will be suspended during the 2022 NFL season.
Deandre Hopkins (WR) Arizona Cardinals – 6 games
Calvin Ridley (WR) Atlanta Falcons – 17 games
Deshaun Watson (QB) Cleveland Browns  – 11 games
RELATED CONTENT