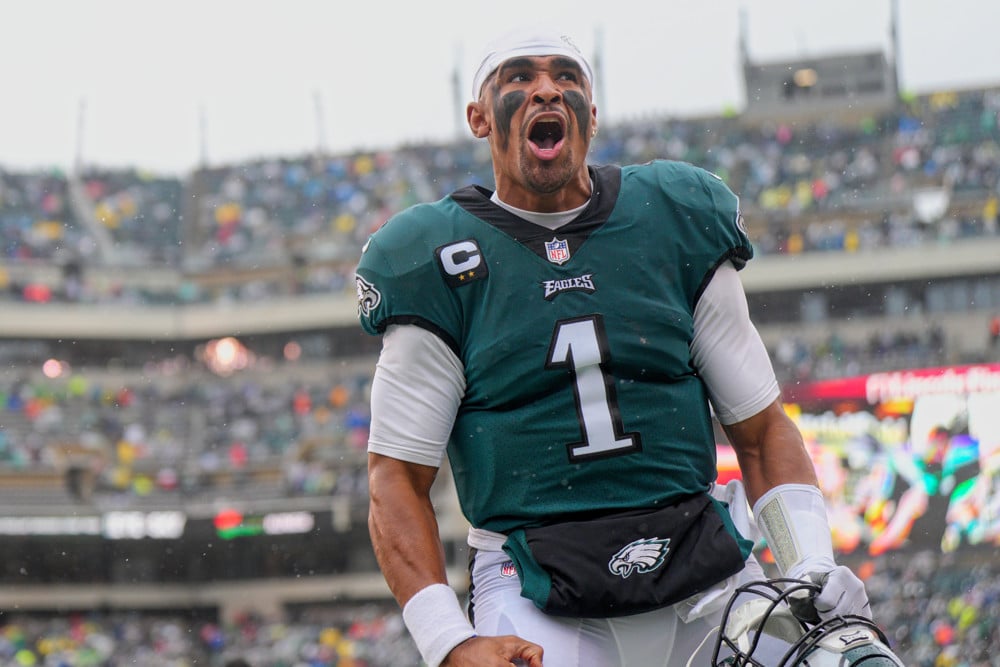 Welcome to the Sports Gambling Podcast Network's Top 10 Week 5 DFS stacks article!! Each week of the NFL season, I will be breaking down the DraftKings main slate to bring you the top 10 DFS Week 5 stacks. 
"Stacks" in DFS can be defined as; playing two or more players from the same team in a single lineup. Stacking in DFS contests has become the predominant roster construction strategy, particularly for GPP tournaments, with various unique and creative ways to build stacks and maximize your scoring upside each week. 
The most popular stacking options include the skinny stack, the double-stack, the run-back stack, the full-on game stack, and the running back paired with a defense stack.
The skinny stack is traditionally a quarterback paired with a skill position player. The double-stack includes the quarterback and two skilled position players. The run-back stacks usually consist of a quarterback and wide receiver from one team and an opposing wide receiver or running back.

A game stack can include up to five players from a single contest and a 3/2 or 4/1 team ratio, typically involving the quarterback. The running back stacked with defense is just that. 
Each week the stacks in the top 10 will include a variety of these stacks based on the scoring upside and likelihood of cashing in GPP tournaments and cash games. Now let's dive into the Top 10 Week 5 DFS Stacks.
More SGPN Fantasy Football Coverage
Week Five Waiver Wire Targets
Week Five FAAB Cheat Sheet
SGPN Fantasy Football Discord
SGPN Fantasy Football Youtube Channel
Top 10 Week 5 DFS Stacks
Josh Allen (QB) Buffalo Bills
Stefon Diggs (WR) Buffalo Bills
Dawson Knox (TE) Buffalo Bills
Pat Freiermuth (TE) Pittsburgh Steelers 
Josh Allen scored 24.5 DraftKings points last week, good enough for fifth-best overall at the quarterback position and it was his worst performance of the year. A real letdown for people who played him and expected 30-plus points. He's been that freaking good so far through the first month of the season. Averaging over 30 points per game, second to only Lamar Jackson. He's also second in touchdowns passing yards and rushing touchdowns. He's a man playing with boys. 
PFF is projecting Stefon Diggs for 57 snaps and a top-six cornerback matchup this week against Pittsburgh. Levi Wallace is currently PFF's 84th cornerback with a 52.6 rating. His 47.8 converge grade has me drolling. Sure Diggs is priced up, but facing a Brian Flores defense that likes to play man coverage, look for the Bills to create matchup advantages against Wallace. The Steelers' other cornerback, Cameron Sutton ranks 28th on PFF's list. In his two games against the Steelers as a Buffalo Bill, he has caught 19 of 27 passes for 199 yards and a touchdown. Adjust the ranks. 
Jamison Crowder broke his ankle and Isaiah Mackenzie is in the NFL's concussion protocol. Dawson Knox will be needed this Sunday as a pass receiver and not just a blocker. At only $3,600, he is a steal. I love adding on Pat Freiermuth for only $4,100 more as a runback. The Steelers are 14-point road underdogs in this matchup so I'm hoping that all their late garbage time touchdowns go to Freiermuth. 
Total Cost: $24,300
Players to pair with: Breece Hall (RB) Rondale Moore (WR)
How do you limit Josh Allen's playmaking ability if you're an opposing defense? pic.twitter.com/85cZ8sq4co
— Jenna Harner (@JennaHarner11) October 4, 2022
Jalen Hurts (QB) Philadelphia Eagles
A.J. Brown (WR) Philadelphia Eagles
Rondale Moore (WR) Arizona Cardinals
Jalen Hurts is my favorite quarterback play on DraftKings for week 5. He's been electric through four games! He managed to claw out 17 DraftKings points in a driving rainstorm last week against the Jacksonville Jaguars. This week he faces an Arizona Cardinals team defense that PFF has ranked 32 out of 32 teams. Don't let their mediocre performance against a god-awful Baker Mayfield lead the Carolina Panthers team to scare you away from rolling with Hurts this week.
My favorite way to play Jalen is naked, insert the Kirk Cousins "You Like That!" GIF here, but stacking is way more fun. New Eagles wide receiver A.J. Brown is averaging 101 receiving yards per game, 9.5 targets, and more importantly, 18.6 DraftKings points. He only has one receiving touchdown this season, but last week he had one called back on a phantom offensive pass interference call on Dallas Goedert. He should be averaging over 20 points per game, so the value is here in this plus matchup. Brown outweighs both Cardinals cornerbacks by 35lbs. This could get ugly. 
And if it does get ugly expect the Arizona Cardinals to be airing it out in a second-half comeback attempt. At $4,100 Rondale Moore is a great value this week. He saw an 85% snap share and ran 30 routes on 33 Kyler Murray dropbacks last week. So long Greg Dortch. Look for Moore to fully take over the slot receiver roll this week and also to be peppered with targets as a five-point home underdog. The 49.5-point total is the highest on the main slate. 
Total Cost: $19,800
Players to pair with: Jamaal Williams (RB) David Njoku (TE)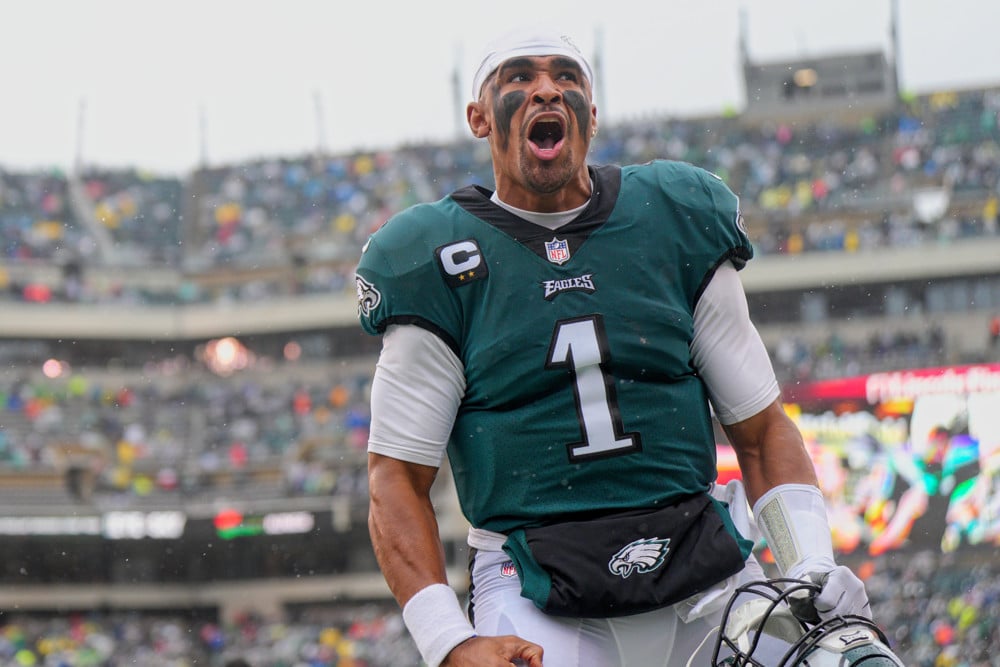 Justin Herbert (QB) Los Angeles Chargers
Mike Williams (WR) Los Angeles Chargers
Nick Chubb (RB) Cleveland Browns 
Justin Herbert leads the NFL in passing yards. he's done this through 4 weeks without Keenan Allen and with broken rib cartilage. is Justin Herbert Superman? If you played him the last week stacked with Austin Ekeler, he was, as they combined to score 59 DraftKings points. 
You're welcome for reading my article last week. Cleveland Browns cornerback Greg Newsome II and Denzel Ward currently are ranked 64th and 93rd, respectively, if you think that's respectful. To be honest, it's terrible. Last week Herbert faced terrible corners and he passed for 340 yards and two touchdowns.  
Without Keenan Allen in the lineup, Williams has been Justin Herbert's number-one target. His 18.7 target share is 10% more than Herbert's second-most-targeted wide receiver DeAndre Carter. Williams has at least a three inches and over a 30lbs weight advantage over both Newsome and Ward. Last week Herbert targeted him 11 times. It's boom or bust with Williams, scoring over 20 points twice and scoring under 10 points twice. All signs point to this week being another 20-point performance. 
Running back the Chargers stack with Nick Chubb makes the most game-script sense given the Browns' run-heavy attack. Kevin Stefanski still is running the ball over 53% of the time. When the Browns are at home, the run percentage jumps to 56%. We know the game plan. Now we just need the defenses not to show up. So far so good, as both teams combine to give up over 50 points per game. The 47.5 total might be light. This is a sneak game to stack, even if you fade Chubb and run it back with a $6,00 Kareem Hunt. 
Total Cost: $22,200
Players to pair with: Damien Harris (RB) Chris Olave (WR)
Justin Herbert is playing with broken rib cartilage, hasn't had Keenan Allen, and yet he's leading the league in passing yardage. Absolutely ridiculous.
✍️ @MattVerderame
— FanSided (@FanSided) October 5, 2022
Tom Brady (QB) Tampa Bay Buccaneers
Mike Evans (WR) Tampa Bay Buccaneers
Drake London (WR) Atlanta Falcons
The news officially broke over the weekend that Tom Brady and his wife Gisele Bundchen have separated. Tom's home alone, singularly focused on football. Bad news for the Atlanta Falcons. Tom's about to go to therapy on them this Sunday. I'm sure he'll be thinking about the time he was once down 28-3 against the Falcons before rousing the greatest Super Bowl comeback in NFL history.
Oh did I mention that Brady is 10-0 in his career against the Falcons? As a Buccaneer, he's thrown for 1,433 yards, 15 touchdowns, and has a passer rating of 117.4. Did I mention Brady's only $6,000?
Mike Evans has been Brady's number-one wide receiver through the first four weeks. Despite being suspended for a game, Evans already has three touchdowns and is averaging one a game. He's good for 20 points per game on average but has a huge floor in this matchup.  Cornerbacks Casey Hayward Jr. and A.J. Terrell are no match for Evans. He towers over both defensive backs, who are 5'11" and 6'1" to Evans' 6'5". The good news is that he only has a 30-35lbs weight advantage. 
Drake London has been a revelation for the Atlanta Falcons this year. This is good because Kyle Pitts is Officially Missing just like Miss Nelson. I don't think detective McSmogg is going to be much help in this case. All signs point to London being the bell cow wide receiver one in the mold of Julio Jones.
He currently leads all Falcons to pass catchers in yards, 212, receptions, 18, touchdowns, 2, and DraftKings points with 55.1. He's seen at least six targets in all games this season. The Falcons are currently 8.5 points road underdogs against the Bucs. But this isn't your typical Matt Ryan-led Falcons offense anymore. Under head coach Arthur Smith, the Falcons are 2-2 and are averaging 25.8 points scored per game. Imagine if they learned how to utilize Kyle Pitts.  
Total Cost: $18,000
Players to pair with: Kareem Hunt (RB) TJ Hockenson (TE)
Tom Brady and Mike Evans have connected for 30 TDs in 35 games together pic.twitter.com/D5oDnengwU
— NFL Stats (@NFL_Stats) October 3, 2022
Jared Goff (QB) Detroit Lions
T.J. Hockenson (TE) Detroit Lions
Damien Harris (RB) New England Patriots
Jared Goff is currently the fifth-highest-scoring quarterback on DraftKings. Just like we all planned it really. He's ahead of quarterbacks like Joe burrow Kyler Murray and Justin Herbert to name a few. just like we predicted. His 11 touchdown passes are good for first in the NFL with Lamar Jackson and Patrick Mahomes. Maybe you've heard of them? Jared Goff is not a great quarterback. But he is a good quarterback on a good offense with a terrible defense who's going to keep him gunning all game long. 
Last week, it was TJ Hockenson on the receiving end of the gunning. His 42-point performance in Week 4 was 13 points higher than any other tight end this season. Eight catches for 179 yards and two touchdowns would make Randy Moss blush. Travis Kelce liked it so much that he invited him onto his Podcast New Heights. Either way, with D'Andre Swift OUT and Amon Ra St. Brown recovering from an ankle sprain, Hockinson is all systems go at $4,900 this week. Stacking him with Goff makes a lot of sense. 
It also makes a lot of sense in this game to play a New England Patriots running back. I'm leaning toward Damien Harris since he scored a touchdown last week and is the goal line back. The lions are absolutely Dreadful against the Run giving up 150 yards and two touchdowns to Rashaad Penny last week. They ranked 31st out of 32 teams. The New England Patriots might be down to their 3rd string quarterback. Look for Bill Belichick to shorten this game with his rushing attack. Both Harris and Rhamondre Stevenson could see 18 touches so stack accordingly.
Total Cost: $16,600
Players to pair with: A.J. Brown (WR) Chris Godwin (WR)
The @FFMillionaires NFL Week 5 Show w/@TheRalphMacho & @NimblewNumbers 💵
💵 💵 Trades to Get Paid 💵 💵
💰Sell High:
• TJ Hockenson & Jamaal Williams
💸 Buy High:
• George Pickens & Dameon Pierce
Watch & Subscribe: https://t.co/OowSF2nvv0 pic.twitter.com/0LCcNtA5cJ
— Scott Simpson (@NimblewNumbers) October 5, 2022
Kirk Cousins (QB) 
Justin Jefferson (WR) Minnesota Vikings 
What can I say about Kirk Cousins and Justin Jefferson? We all watched Justin Jefferson go nuclear on Marshon Lattimore last week across the pond in London. After two quiet weeks, Jefferson awoke! It's terrible news for the Chicago Bears, who barely look like a professional football team most Sundays. Bears cornerbacks Kindle Vildor and Kyler Gordon have struggled in pass coverage this season. They rank 87th and 103rd out of 105 cornerbacks. The defense as a whole has played well, but they are about to be exposed this week. 
Cousins hasn't cracked 20 points through four games, but that is about to change this week. Look for Kevin O'Connell in the Vikings to isolate Justin Jefferson against these poor Bears Corners. We saw what Jefferson did last week to Marshon Lattimore. Vildor and Gordon are no Lattimore. I love this sneaky skinny stack in larger GPP fields. If you wanted to run it back with Khalil Herbert at running back you could but the Bears have been so bad that I'm not confident in that play.
Total Cost: $15,200
Players to pair with: Anyone 
Justin Jefferson is cold for this IG post 🥶 pic.twitter.com/oSAjpEit3k
— PFF (@PFF) October 4, 2022
Trevor Lawrence (QB) Jacksonville Jaguars
Christian Kirk (WR) Jacksonville Jaguars
Dameon Pierce (RB) Houston Texans
Trevor Lawrence and Christian Kirk have impressed through the first four weeks of the NFL season. Lawrence is averaging 17.2 DraftKings points per game. He has eight touchdowns to only two interceptions and after a tough game against the only undefeated team in the NFL, he gets to play the Houston Texans. He just might break the slate. But seriously, Lawrence has an opportunity to pass for multiple touchdowns and this best option is the 72M man Kirk.
Kirk currently ranks 10th amongst wide receivers with 74-points, less than half a point behind A.J. Brown for ninth. He is averaging nine targets per game and has three touchdowns in four games. His 18.5 DraftKings points lead the Jaguars' whole team. He's a great play at only $6,600 and is picking up less than 10% rostership.
Dameon Pierce has the moves. Last week's 75-yard touchdown was a pure masterclass in body control, great angles, and tremendous speed. He's everything we thought he was going to be when we drafted him as an RB2 this season in redraft. I knew his coming-out party was going to be loud, I just didn't know it was going to be coming so soon. This week the Texans' offense will need to keep up with the Jaguars' offensive production. This game could see Pierce with 20-25 touches, several being targets in the passing game. I love this stack in larger GPP fields.
Total Cost: $18,400
Players to pair with: Curtis Samuel (WR) Gerald Everett (TE)
The rookie Dameon Pierce goes 75 YARDS for the TD!
📺: #LACvsHOU on CBS
📱: Stream on NFL+ https://t.co/UxfHPqQqWn pic.twitter.com/P8NsIc1NSS
— NFL (@NFL) October 2, 2022
Cooper Rush (QB) Dallas Cowboys
CeeDee Lamb (WR) Dallas Cowboys
Cooper Kupp (WR) Los Angeles Rams
Rush, Lamb, and Kupp sound like a Texas law firm, but in reality, it's one of my favorite Week 5 DFS Stacks. Cooper Rush, the Dallas Cowboys backup quarterback, is now 3-0 on the season and last week managed to produce 40 total DraftKings points for his wide receivers. 17 of his 27 pass attempts were thrown to a wide receiver. Michael Gallup returned and was targeted six times and he caught one of two touchdown passes Rush threw. 
CeeDee Lamb, my favorite junior partner in this fictitious law firm, looked great last week as well, grabbing a touchdown to go along with six receptions and 97 receiving yards. More importantly, he saw a Cooper Kupp-Esque 30% target share. Don't let a potential matchup with Jaylen Ramsey and company scare you off this stack. The Rams' secondary has given up the most receptions, 69, and is tied for second-most receiving yards given up with 847 and touchdowns with six. 
Ian Hartitz said it best, "Cooper Kupp is this year' is Cooper Kupp. Last season he averaged 27 points per game now he's averaging 29 per game. He's currently on Pace to score 493 DraftKings points. That would be 54 more points than he scored last year. That would be wildly insane. And I think it's going to happen and I'll be playing him this week in this run-back stack. 
Total Cost: $22,000
Players to pair with: Breece Hall (RB) Rhamondre Stevenson (RB)
Cooper Kupp fantasy points per game:
2021: 25.7
2022: 27.1
Holy shit this year's Cooper Kupp is Cooper Kupp
— Ian Hartitz (@Ihartitz) October 5, 2022
Teddy Bridgewater (QB) Miami Dolphins
Tyreek Hill (WR) Miami Dolphins
Corey Davis (WR) New York Jets
When considering the Top 10 Week 5 DFS Stacks; I'm searching for value with a Miami Dolphins stack. No Tua Tagovailoa, as he is still in the NFL's concussion protocol. This week Teddy Bridgewater gets to play with Tyreek Hill in the sandbox. Hill currently leads the NFL with 477 receiving yards and is third in DraftKings points, averaging 24.3 points per game. Last week without Tua, Hill was the focal point of the Dolphins' offense, turning 14 targets into 10 receptions for 160 yards. I am not worried about Hill, but you should if he's not in your lineup. 
Corey Davis has been the New York Jets most consistent wide receiver, scoring over 13 DraftKings points in three of four games. This week he is priced at only $5,100 making him a solid runback option if you are trying to match a Hill explosion on the Dolphins' side. I'm running this stack out in smaller field GPP and cash games. 
Total Cost: $18,500
Players to pair with: Austin Ekeler (RB) Pat Feiermuth (TE)
Tyreek Hill is leading the NFL in receiving yards with 477 — the Bears have 471 combined 😬 pic.twitter.com/zWxYkmMzfw
— Fantasy Life (@MBFantasyLife) October 5, 2022
Carson Wentz (QB) Washington Commanders
Curtis Samuel (WR) Washington Commanders
Derrick Henry (RB) Tennesse Titans
Carson Wentz has five interceptions and three fumbles in four games as a Washington Commander. There's already talk on DC sports radio of fifth-round rookie Sam Howell taking over at quarterback if Wentz continues to take sacks and turn the ball over. The good news is that the Tennessee Titans do not have a vaunted pass rush like the Philadelphia Eagles and Dallas Cowboys. So when should have a lot more time to get the ball off to his wide receivers?
Rookie wide receiver Jahan Dotson is going to miss at least this week with an ankle injury. Curtis Samuel, who already is the Commanders' number one wide receiver, should see even more target volume. I believe the kids are calling it condensation. Eventually, a mass of targets collects, and an offensive thunderstorm is produced. This might be the last chance to play Wentz, period. Might as well go out with a bang.
Speaking of a bang, Derrick Henry with his second straight 25-point performance after two duds to open the season. Apparently, Henry is a PPR back now, earning 11 targets in the last two games. If this trend continues, Henry won't be priced down at $8,200 for much longer. Washington isn't terrible against opposing running backs, giving up only three touchdowns and 450 total yards. But they haven't faced a running back of his ability level either. I expect him to find the end zone multiple times and to payoff in this runback stack. 
Total Cost: $19,700
Players to pair with: Amari Cooper (WR) George Kittle (TE)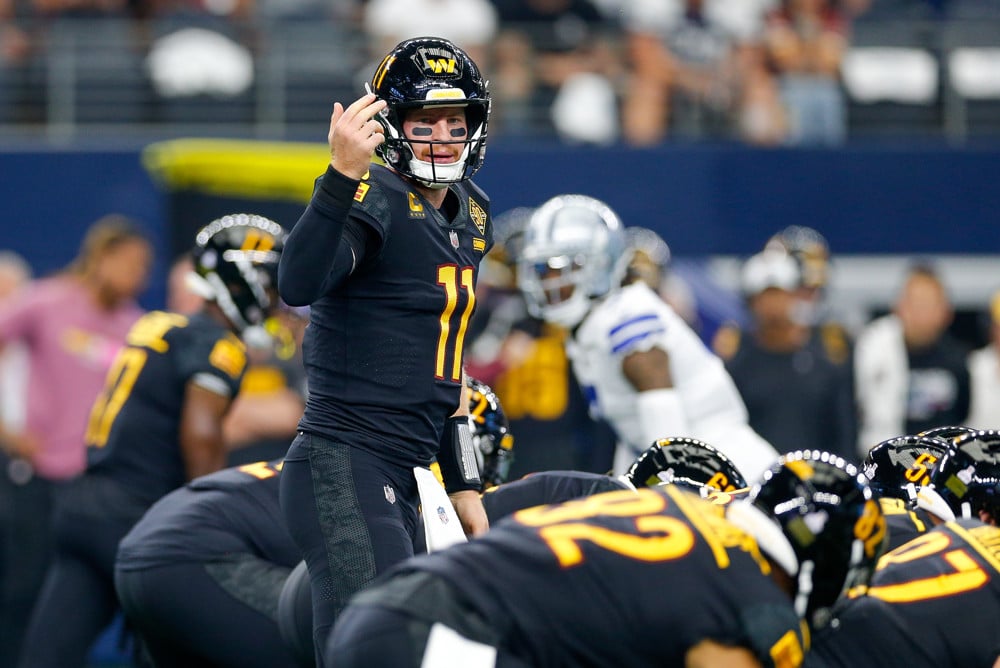 Those were the SGPN Top 10 Week 5 DFS Stacks – Come Back Next Week!
RELATED CONTENT