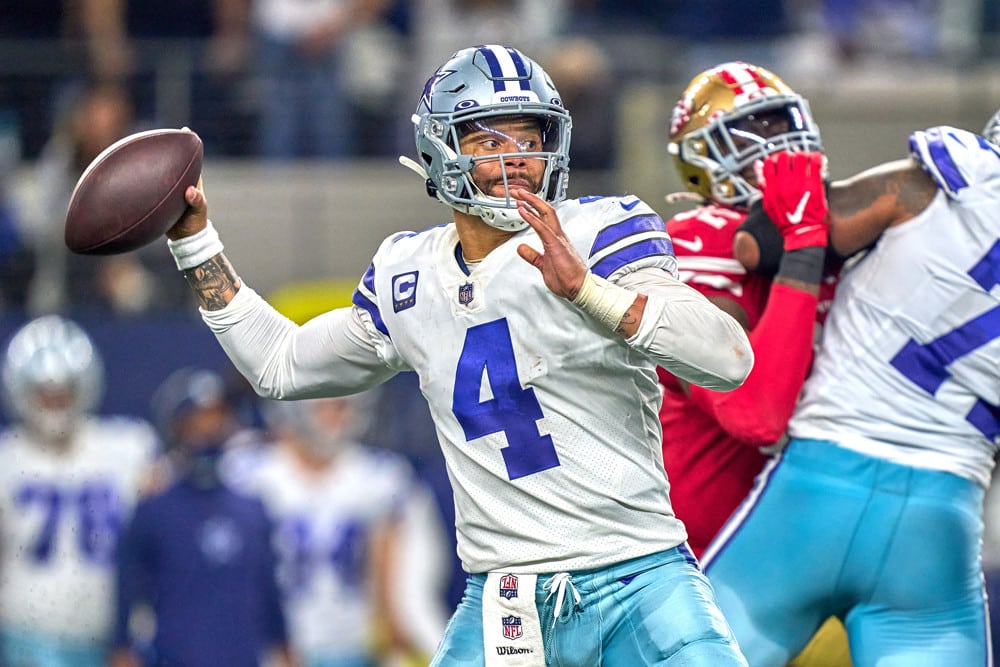 Well ladies and gentlemen, with some big-name injuries coming out of Week 1, now the season officially begins. While it would be great to live in fantasy land and draft a team where no one gets injured, that's just not the NFL. Making judgment calls, stashing players on the IR, and scrounging the waiver wire are necessary steps on your way to a Fantasy Football Championship. This may seem like a large mountain to climb, but I'm here to provide you with some guidance in your journey. Below I break down all the relevant Fantasy Football injuries for this week. Welcome to the Week 2 Fantasy Football Injury Report!
Note: This injury report will be updated until the conclusion of Week 2. For the most current injury news and analysis, follow me on Twitter @SGPNFootballDoc!

MORE SGPN FANTASY FOOTBALL CONTENT
SGPN Fantasy Football Draft Cheat Sheets
2022 SGPN Fantasy Football Draft Kit
SGPN Fantasy Football Rankings
SGPN Fantasy Football Projections
Week 2 Fantasy Football Injury Report
Harrison Butker (K) Kansas City Chiefs
Ankle Injury, Initial Injury: 9/11/2022
A kicker makes their way onto the Week 2 Fantasy Football Injury Report. Unfortunately, it is one of the better ones in the league too, who is likely rostered. Kansas City Chiefs kicker Harrison Butker injured his ankle during a kickoff in the first quarter last week. He was able to make a 54-yard field goal with the leg in the second quarter but was pulled from the game. Butker was unable to practice Tuesday and has been ruled out for the Thursday night game. The specifics of Butker's injury have not been disclosed at this time. His practice status next week should provide more clarity.
Butker is ruled OUT for Week 2, it's a judgment call to sit or drop him completely. – SIT/DROP
Dak Prescott (QB) Dallas Cowboys
Thumb Fracture, Initial Injury: 9/11/2022
Things went from bad to worse in Dallas for their season opener. While suffering a beat down via the hand of the Bucs, Dallas QB Dak Prescott injured his throwing hand during the 4th quarter. His thumb collided with a pass rusher's arm and fractured a bone in his thumb. The initial recovery timeline was reportedly six to eight weeks. However, this may no longer be the case in this most surprising segment of the Week 2 injury report.
News broke Tuesday this week that the Cowboys will not in fact put Dak on IR as we all thought would happen. After speaking with medical personnel from the surgery, the team has decided to leave the window open for their QB to return as soon as possible. From a medical perspective, hardware (metal) was inserted to protect the healing bone from the surgery. He would not be at great risk for reinjury if he returned before the six to eight-week window, however, it is going to take time for him to feel comfortable throwing again.
The Dallas offense already looked poor in Week 1, add Prescott not being able to fully grip the ball when he comes back, and yikes. For now, QB Cooper Rush is heading the ship in Dallas but for how long is still up in the air?
Prescott is out for the next couple of weeks at least, but it is a mystery from there. – IR
Keenan Allen (WR) Los Angeles Chargers
Hamstring Strain, Initial Injury: 9/11/2022
Chargers reliable WR Keenan Allen had to exit the game in Week 1 with a hamstring injury. The severity of the injury is still unknown but with the quick turn around he has already been ruled out for Thursday night. A hamstring strain refers to damage (tear) to the muscle in the back of the upper leg. Your hamstring plays a big role in generating the power in your legs that allows you to jump and sprint. Allen will need to be careful in his recovery as these injuries tend to be burdensome due to their high reinjury rate. His practice status next week will give us a better idea of a recovery timeline.
Allen has been ruled out with a hamstring injury for Week 2. – SIT 
Chris Godwin (WR) Tampa Bay Buccaneers
Hamstring Strain, Initial Injury: 9/11/2022
The good news for Bucs WR Chris Godwin is that his surgically repaired ACL seems to hold up well in Week 1. He completed a fast recovery and was productive in the first half of the game. However, when players come back from a significant injury in a shorter period of time, this increases the likelihood of suffering another injury. Godwin was ruled out of the second half with a hamstring injury of which the severity is currently unknown. What we do know is he didn't practice Wednesday this week and I'm not sure the Bucs will want to rush him back from a second injury. With these injuries often becoming reinjured and suffering more damage, it might be best if Godwin is not in the lineup this week.
Godwin is dealing with a hamstring injury and has not practiced yet this week. – MONITOR
Najee Harris (RB) Pittsburgh Steelers
Lisfranc Sprain, Initial Injury: Training Camp
Pittsburgh fans should be able to take a breath with some positive news on this Week 2 injury report. Star RB Najee Harris injured his foot in training camp this year in what was being called a lisfranc sprain. This refers to damage to the bones in the midfoot or ligaments that support the midfoot. The injury held him out of the first two preseason games but was thought to be resolved by the start of the season. Unfortunately, it looked like he aggravated his foot again after being bent backward on a tackle late in the game.
Despite being held out of overtime in Week 1, Najee is confident he will be playing in Week 2. The specifics of the injury have not been disclosed but the young RB does not feel like this injury will limit him. His practice status will also be a good indication of what to expect from him on Sunday.
Najee is confident he will play this week but his practice status should be monitored. – MONITOR 
Mac Jones (QB) New England Patriots
Back Injury, Initial Injury: 9/11/2022
Patriots QB Mac Jones not only took a beating on the scoreboard last week but also in the pocket. The New England QB received X-rays on his back due to feeling pain but thankfully they came back negative. It appears the scare in Boston will be short-lived as Jones is already back at practice as a full participant. He was likely dealing with some back spasms after the game and should be good to start Week 2 against Pittsburgh. The Steelers did have seven sacks last week, so I hope the Pats are ready to protect their young QB.
Jones practiced fully on Wednesday and will likely start Week 2. – HEALTHY BUT WOULD NOT START 
Tee Higgins (WR) Cincinnati Bengals
Concussion, Initial Injury: 9/11/2022
Bengals stud WR Tee Higgins was knocked out of his Week 1 game against the Steelers. He took a brutal blow to his helmet and we now have our first concussion of the Week 2 injury report. A concussion is a mild traumatic brain injury that leads to disruption in the function of the brain. Concussions are still largely a mystery in the medical profession but it leads to slower processing speeds on the field. Research has shown that most NFL players return to playing in less than seven days from injury. However, symptoms vary from player to player so practice status is the best way to gauge these injuries.
The NFL has a standardized protocol, requiring players to complete five steps before being able to play. It appears that Higgins is making good progress through these steps this week as he already logged a limited practice. As long as he is able to continue this progress, he has a good shot at playing this week. Although, the Bengals do play a depleted Cowboys team this week, so they may not need it for Week 2.
Higgins is progressing through the concussion protocol. – MONITOR 
Elijah Mitchell (RB) San Francisco 49ers
MCL Sprain, Initial Injury: 9/11/2022
The San Francisco 49ers seem to always have a revolving door for an RB room. No surprise that their lead back for the season is already on the Week 2 injury report. Mitchell suffered a knee injury against the Bears last week and has already landed on the team's IR. The injury is an MCL sprain which refers to damage to the ligament located on the inner (medial) knee. With the expectation that Mitchell is going to miss around two months, this means it was a grade 3 strain or that the ligament was completely torn. The only way it makes sense to keep Mitchell on your team is if you have room to move him to your IR spot. RB Jeff Wilson will look to carry the load in Mitchell's place.
Mitchell will miss about two months with a torn MCL. – DROP/IR
Rondale Moore (WR) Arizona Cardinals
Hamstring Strain, Initial Injury: 9/8/2022
With the Cardinals already missing WR Deandre Hopkins for the first six games due to a suspension, the WR room takes another hit. Moore suffered a hamstring injury in practice and is reportedly undergoing an MRI to determine the severity of the injury. There's still some unknown here with the injury, but we do know is that Moore was ruled out for Week 1. Moore has also not returned to practice at this point, which is a bad sign for his Week 2 availability. Hamstring injuries have high reinjury rates and are difficult to come back from during the season. The status of the MRI on the muscle has not been disclosed yet, keeping the mystery alive.
Moore is still not practicing and will need time to ramp up before playing. – MONITOR/SIT 
Allen Lazard (WR) Green Bay Packers
Ankle Injury, Initial Injury: 9/1/2022
WR Allen Lazard was slotted to be Green Bay's top wideout, but he injured his ankle two weeks ago. Not much information is available regarding the injury, but head coach Matt LaFleur said Lazard "got stepped on last week." The Packers sorely missed Lazard last week as the entire offense struggled with no WR stepping up. Some positive news for the Week 2 injury report is that Lazard did practice today for the first time in two weeks. He logged limited participation which is unsurprising but we will see how his ankle responds to the practice. If he can log a full participation before the weekend, this is a good sign he will be good to go Sunday. Already having gained Rodger's trust, he should see a high volume of targets if he plays.
Lazard returned to practice this week and must be monitored for his Week 2 status. – MONITOR 
George Kittle (TE) San Francisco 49ers
Groin Injury, Initial Injury: 9/5/2022
San Francisco's star TE George Kittle started off Week 1 in the worst way. He injured his groin at practice last Monday and was unable to practice last week. Both the nature of the injury and his practice status is very concerning for his early season availability. Groin injuries refer to an injury to the muscles connected to a player's pelvis (inner hip or core). These injuries carry high reinjury risks and are difficult to rehab. It severely hampers a player's ability to run routes and shrinks their catch radius.
Kittle again began this week with no practice participation. Groin injuries can not be rushed and take time to recover. It is typical for a player to try to return too soon and then have it derail their season. For the long term, it may be best for him to fully heal but for his Week 2 status, this is not a good sign.
Kittle has still not practiced yet since injuring his groin last week. – MONITOR/SIT
Van Jefferson (WR) Los Angeles Rams
Knee Surgery, Initial Injury: 8/1/2022
Rams young WR Van Jefferson was looking to cement his role as WR3 this offseason. Unfortunately, Jefferson has had more surgeries than catches this preseason. The Rams WR had an undisclosed planned surgery done on his knee this offseason and, in early August, required a second unplanned procedure.
Jefferson reportedly tweaked his knee in practice which caused the need for a second surgery. The good news is that both surgeries are described as minor, and there is an expectation that Jefferson will be back in the early part of the season. After missing the Week 1 game, Jefferson has still not returned to practice. For a team looking for a receiving option outside of WR Cooper Kupp, Jefferson still not practicing means he will likely be out again this week.
Van Jefferson is still not back at practice to this point. – MONITOR 
JK Dobbins (RB) Baltimore Ravens
ACL Tear, Initial Injury: 8/28/2021 
JK Dobbins has received A LOT of hype this offseason, particularly from the fantasy football community. I am not among those simply expecting Dobbins to come back and have an amazing year. I actually think the Ravens backfield will be a headache for fantasy owners this season with a good Oline and stable of capable RBs. Dobbins suffered not only an ACL tear but also damage to his LCL ligament. Both ligaments serve to stabilize the knee in different planes of motion, and multi-ligament injuries tend to complicate recovery. More damage to the knee comes with more concern for the player to return to their pre-injury playing level quickly.
After a lot of uncertainty surrounding the exact return of the Ravens' star RB, he took a big step this week to bring some clarity. For the first time since his ACL tear last season, Dobbins was a full participant in practice this week. This is some big positive news on the Week 2 injury report, as it means he is likely to play this week if there are no setbacks. We will have to see how Dobbin's knee holds up to live reps, but if he continues to practice he should play this week. I am still not expecting too much production from him right away. 
Dobbins had his first full practice this week and has a chance to play in Week 2. – MONITOR
Zach Wilson (QB) New York Jets
Bone Bruise, Injury Date: 8/12/2022
The young New York Jets QB gave every fan and fantasy owner a scare this preseason. After going down awkwardly after making a cut while scrambling, the internet took over and assumed the worst. Fortunately for Wilson, he only suffered a bone bruise and meniscus tear in his knee and not an ACL tear. He had surgery to remove the injured part of his meniscus and has to give his bone time to heal from the bruise.
The recovery window provided by the team was four to six weeks. After some initial optimism on the chances Wilson starts Week 1, it appears that the ship has sailed. Head coach Robert Saleh has officially ruled out QB Zach Wilson for this week, and Week 4 looks like the new target date. This leaves backup QB Joe Flacco in line for the starting job.
Wilson is OUT Week 2, with Week 4 being the team's new target date. – SIT
Suspensions:
A quick reminder of the impact of Fantasy Football players who will be suspended during the 2022 NFL season.
Deandre Hopkins (WR) Arizona Cardinals – 6 games
Calvin Ridley (WR) Atlanta Falcons – 17 games
Deshaun Watson (QB) Cleveland Browns  – 11 games